• The Postmistress of Paris received a starred Publishers Weekly Review ("This sterling portrait of a complex woman stands head and shoulders above most contemporary WWII fiction.") and is one of their Notable Book for Fall/Winter 2021!
All events in person and local time unless otherwise noted.
2021
8.19 American Library Association Gala Author Tea, 1 pm. (Virtual) I'm thrilled to be chatting  at this annual gala–free and open to everyone this year!–with fellow authors Ruth Ozeki, David Wright Faladé, and Daniel Black. Barbara Hoffert, editor of LibraryJournal's Prepub Alert, will moderate. You can join us by zoom or streaming. Just click on that link for details and, if you want to zoom, register –to hear my very first discussion of The Postmistress of Paris!
11.13 Hamilton Jewish Federation's Third Annual Marvin Caplan Book Festival, Hamilton Ontario, Canada, 8 pm. (Virtual) I spoke in person about The Last Train to London at the very first year of this book festival, and am so honored to be invited back to talk about The Postmistress of Paris.
11.18 JCC Mizel Arts and Culture Center's Neustadt JAAMM Festival, Denver, CO, 6:30 pm. (Virtual)
11.29 BookPassage, Corte Madera, CA, 5 pm.
11.30 Books Inc., Stores throughout the San Francisco Bay Area (virtual, but they will have originally signed copies)
12.1 Poisoned Pen, Scottsdale, AZ (virtual but they will have originally signed copies)
12.2 Lafayette Library Distinguished Speakers Series, 7 pm.
12.7 Kepler's, 6 pm (virtual, but they will have originally signed copies)
12.14 Meriden Library, Meriden, CT, 7:00 pm. (Virtual)
12.15 Mandel JCC of the Palm Beaches, Palm Beach Gardens, FL, 7 pm. (Virtual)
We're still finalizing events for early December, to celebrate the publication of The Postmistress of Paris! So please check back.
2022 
1.11 "Between the Lines" with The Postmistress of Paris, hosted by the San Mateo County Libraries.
3.8 Levis JCC Sandler Center, Boca Raton FL, 3 pm.
3.8 Alper JCC, Miami, FL, 7:30 pm.
3.9 Miami Beach JCC, Miami Beach, FL, 12:30 pm.
3.9. David Posnack JCC, Fort Lauderdale, FL, 7:30 pm.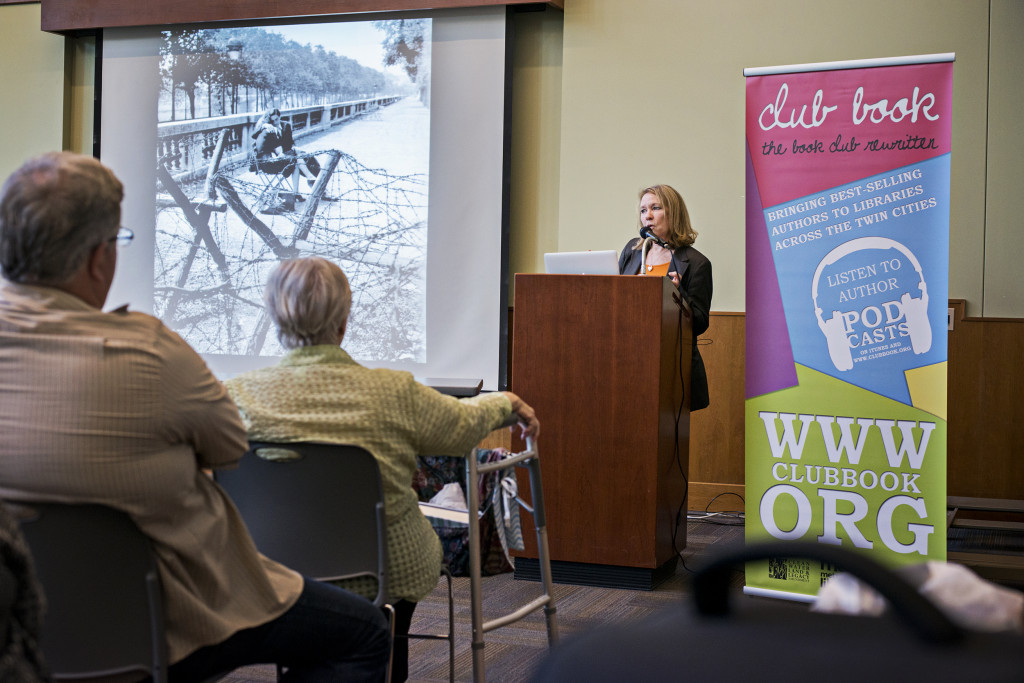 photo by Slade Kemmet, compliments of ClubBook.org
Past Events for The Last Train to London
2021
1.17 Congregation B'nai Shalom, Walnut Creek, CA, 7 pm
1.25 Greater Naples Jewish Book eFestival, hosted by the Jewish Federation of Greater Naples and sponsored by the Holocaust Museum & Cohen Education Center, 1 pm
1.26 Behind the Book, hosted by Jewish Alliance of Greater Rhode Island, 7 pm
2.10 People of the Book Author Lecture Series, hosted by The Jewish Federation of Sarasota-Manatee, 7 pm
2.17 Har Zion Temple, Merion Station, PA 4 pm
3.2 Beth El Temple, Harrisburg, PA 7 pm
3.16 Insiders Out Festival, England 8PM British Time
3.21 Tampa JCCs and Federation Sip & Speak Series, 6:30 pm
4.5 JCC of Central New Jersey and JCC MetroWest, Scotch Plains, NJ and West Orange, NJ, 1 pm (Book Discussion starts at 12 pm)
4.5 Bookshop West Portal – in Conversation with Carol Edgarian about her new novel, Vera, San Francisco, CA, 6 pm (Pacific)
4.27 Rakestraw Books "I Love This Book" Book Group, Danville, CA, 'll be leading a discussion of To Kill A Mockingbird by Harper Lee, 7 pm (Pacific)
5.22 In Conversation with Jhumpa Lahiri, as part of the Santa Clara County Library Distinguished Author Series, 3 pm Pacific
2020
1.20 Kazerne Dossin, Mechelen, Belgium – in conversation with Henri Roanne-Rosenblatt, who as a 7-year-old fled from Vienna to Brussels with a children's transport and went into hiding
1.21 The John Adams Institute, Amsterdam NL – in conversation with Ronald Leopold, director of the Anne Frank House, 8 pm
2.21 Rakestraw Books, 7 pm
3.12 CANCELLED Books Inc., Palo Alto, CA – I'll be chatting with Jennifer Rosner about her debut novel, The Yellow Birds Sing, 7 pm
3.14-15 CANCELLED Tucson Festival of Books, Tucson AZ, Sat 11:30 in the Student Union Tucson Room with Jillian Cantor and Mamta Chaudhry, and Sun 2:30 in Modern Languages Room 350 with Jennifer Rosner and Lara Prescott
3.25 WILL BE HELD VIRTUALLY Book Fair of Beth El Synagogue and Levin JCC, Durham NC, 4 pm
4.30 Housebound Unbound's "You Had To be There": a virtual event hosted by the Columbia MO Unbound Book Festival. In conversation with Alex George and Whitney Sharer about historical fiction
5.1-1 CANCELLED Bay Area Book Festival, Berkeley, CA*
6.12 The Gaithersburg Book Festival, Gaithersburg MD virtual event with Alex George
7.6-13 CANCELLED this year — but mark your calendars for 2021! The Squaw Valley Community of Writers, Squaw Valley CA* – I'm a special guest at the 50th year of this fabulous workshop, where my own  first novel came out of the drawer to find its way in the world!
2020
8.24 Scott Simon's Open Book, 6:15 ET
10.20 Florida Multi-Host Jewish Book Festival Event, 12-4 pm. This multi-author, multi-host fiction writers forum is hosted by the Dave & Mary Alper JCC, Miami Beach JCC, David Posnack JCC, Adolph & Rose Levis JCC Sandler Center, Michael-Ann Russell JCC, and Roth JCC of Greater Orlando
10.25 JCC of Greater Albuquerque, 2 pm
10.29 MJCC Lit Fest Live!, 8 pm. MJCC Lit Fest Live! In Your Living Room is presented in partnership with the JCC Literary Consortium: Atlanta, Baltimore, Boulder, Cherry Hill, Dallas, Ft. Lauderdale, Houston, Indianapolis, Nashville, Memphis, Miami, Rochester, St. Louis, Palm Beach, Palo Alto, Seattle.
10.30 Louis S. Wolk JCC of Greater Rochester, 12 noon – with Talia Carner and Charles Belfoure
11.6 Virtual Brunch! Hosted by the Bender JCC of Greater Washington, Rockville, MD, 11 am
11.19 Sid Jacobson Jewish Community Center, East Hills, NY, 8 pm
12.2 Consequence Magazine Zoom Conversation, with Jennifer Rosner, 7 pm
2019
9.19 Books Inc., Palo Alto CA (9.9.19 – an auspicious-looking date for a launch party!), 7pm
9.10 Mrs. Dalloway's Books, Berkeley CA, 7:30pm
9.11 Copperfield's, Sebastopol CA, 7pm
9.12 Bookpassage, Corte Madera CA, 7pm, in conversation with The White Devil's Daughters author Julia Flynn Siler
9.16 Vroman's, Pasadena CA, 7pm
9.17 Warwick's, La Jolla CA, 7:30pm
9.19 Pages, Manhattan Beach CA, 7pm
9.20 Avid Reader, Davis CA, 7:30pm
9.21 NCIBA Author Buzz Lunch NCIBA (bookseller event)
9.24 Sacramento Public Library, Sacramento CA, 6pm
9.26 Towne Center Books, Pleasanton CA, 11:30am (ticketed luncheon)
9.26 A Great Good Place for Books, Oakland CA, 7pm
10.14 Literature Lover's Night Out hosted by Valley Bookseller at Community Thread, 2300 W Orleans St, ​Stillwater MN, 7 pm (ticketed event)
10.15 Literature Lover's Night Out hosted by Excelsior Bay Books at Trinity Episcopal Church, 322 2nd Street,  Excelsior, MN, 7 pm (ticketed event)
10.19 Books 'n' Bottles at The Wilmette Wine Cellar, Wilmette IL, 4:00 pm (ticketed event)
10.20 Books 'n' Bottles at The Book Bin, Northbrook IL, 4:00 pm (ticketed event) — This was MY BOOKSTORE when I was growing up!
10.29 Bookshop West Portal, San Francisco CA, with E.R. Ramzipoor, 7 pm
11.7 Marcus JCC of Atlanta, Dunwoody GA, with Gillian Walnes Perry, 12:30 pm
11.10 JCC of Metro Detroit, West Bloomfield MI, 10am
11.20 Hamilton Jewish Federation Book Festival, Hamilton Ontario, 7 pm