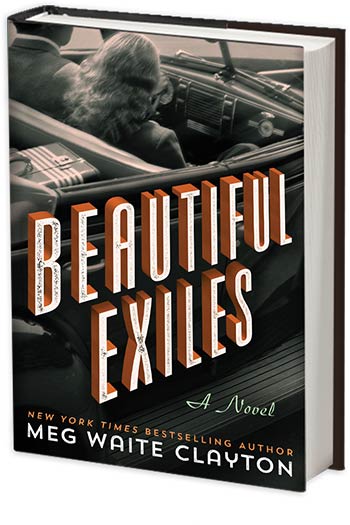 Available now at
Sign up for Meg's Mailing List
For updates, please join Meg's Readers' Circle
VIP news and giveaways, sneak peeks at new releases, help with research questions, character naming, and title and cover selection
I never share your information with anyone. And all correspondence comes with easy update and unsubscribe links. Thanks!
• A #1 Amazon fiction bestseller
• A Historical Novel Reviews Editors' Choice
• An O, The Oprah Magazine short list of "Juicy Novels Based on True Stories"
• An Oprah Daily 23 Books Based on True Stories 
• A Town & Country "11 Best Books Based on True Stories"
• A Book Riot "21 Incredible Books Based on True Stories"
• A Book PopSugar choice for Novels Based on True Stories
• A BookBub choice for Novels About Strong Women
"A great read—especially with Clayton's talent for taking years of research and spinning it into something sexy." — Trish Bendix, Oprah Magazine
Writers. Muses. Rivals. From New York Times bestselling author Meg Waite Clayton comes a riveting novel based on one of the most volatile and intoxicating real-life love affairs of the twentieth century.
Key West, 1936. Headstrong, accomplished journalist Martha Gellhorn is confident with words but less so with men when she meets disheveled literary titan Ernest Hemingway in a dive bar. Their friendship—forged over writing, talk, and family dinners—flourishes into something undeniable in Madrid while they're covering the Spanish Civil War.
Martha reveres him. The very married Hemingway is taken with Martha—her beauty, her ambition, and her fearless spirit. And as Hemingway tells her, the most powerful love stories are always set against the fury of war. The risks are so much greater. They're made for each other.
With their romance unfolding as they travel the globe, Martha establishes herself as one of the world's foremost war correspondents, and Hemingway begins the novel that will win him the Nobel Prize for Literature. Beautiful Exiles is a stirring story of lovers and rivals, of the breathless attraction to power and fame, and of one woman—ahead of her time—claiming her own identity from the wreckage of love.
Reviews
"… so well written that at times I forgot I was reading a novel… Highly recommended reading… The plot is well paced, the characters ring true, and the story reveals the difficulties of two strong-willed people at odds with one another." – Linda Harris Sittig, Historical Novel Society, which chose Beautiful Exiles as an Editors' Choice
"Clayton uses her meticulous research skills to bring to life the wartime years of Martha Gellhorn… [Her] take on their boozy, love/hate relationship is packed with details of the war … a dramatic backdrop for her fictional tale of two vivid personalities and world-altering writers." — Booklist (starred review)
"Meg Waite Clayton continues to investigate — and inhabit — the lives and fortunes of women who ripped open the envelope of their eras' social and cultural limitations… 'Exiles' is an immensely ambitious undertaking…[a] love-sex-booze-intrigue-politics-war-literary culture-travel-packed saga… serv[ing] up micro and macro: intimate words and sensuous moments set against the world's strife." – Joan Frank, The San Francisco Chronicle 
"Riveting … Fascinating!" – Andrea Peskind Katz in Good Life Family Magazine
"A beautifully crafted novel and an inherently fascinating story, 'Beautiful Exiles' will prove to be a welcome and enduringly popular addition to community library collections." – Midwestern Book Review
"Rich with detail [and] exotic locales … vividly portrayed… We can now be grateful that [Gellhorn's] legacy is being celebrated in [this strong work] of historical fiction. – Library Journal