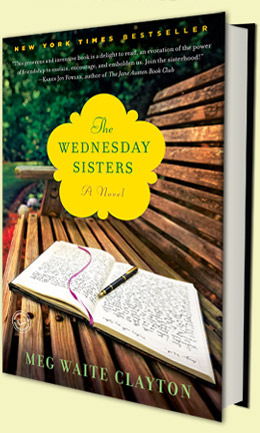 The Personal Story Behind The Wednesday Sisters
Return to The Wednesday Sisiters Book Group page | next >>

The Wednesday Sisters, though

fiction, is inspired by two groups of friends: the friends my mom gathered around her in the many places we lived during the 1960s and 1970s, while I was growing up, and my own amazing friends.

The book started as an empty file in my computer. Just a title. Not a word of the story came with it. The story itself started more than a year later, with a single nameless, faceless character. Just a character trait, really—white gloves—without any idea who wore them or why she might be a "Wednesday Sister."

Even before that, though, there was an ending to a children's story I've never written, a line in a Christmas letter from a friend of my mom's about the mysterious corner house in our old neighborhood, and photographs of the nearly womanless Michigan Law School classes that came frighteningly few years before my own law school days. And there was another law school photo: me sitting on our balcony after my last second-year final with my roommate Darby, raising wine glasses to our other roommate, Jenn, who poured the wine and who is not hesitating to capture me at my worst!

Jenn and two other friends in particular—my best writer-pal, Brenda Rickman Vantrease, and my husband Mac—are largely responsible for the emotional heart of the story. True, Jenn doesn't write, and Brenda is quick to point out that she's a Tuesday Sister—the day our Nashville writing group met. My husband Mac, also a part of that Tuesday group is ... well ... a Tuesday Brother? But the story behind the The Wednesday Sisters is those "Wednesday Sisters" of mine. Through their support, I've again and again found the courage to pursue my dreams and, as importantly, learned to laugh at myself. The Wednesday Sisters is meant to be a hallelujah to them.

If you'd like to know more about the personal roots of The Wednesday Sisters, please click on the Character Buttons, or read this essay or this interview.

For more about how I write, please visit the Writers page.