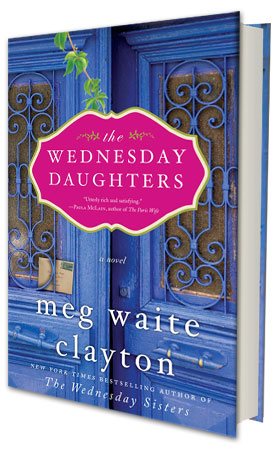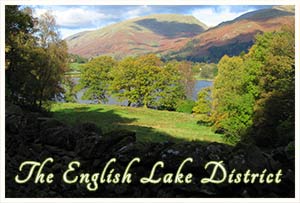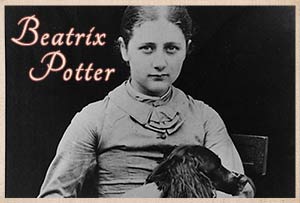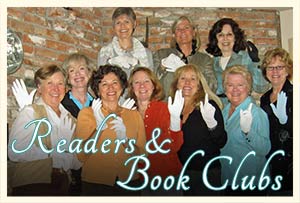 The Wednesday Daughters 
Coming July 16
"Utterly rich and satisfying."—Paula McLain, author of The Paris Wife
"Fans of The Wednesday Sisters are going to fall in love all over again." —Sarah Addison Allen, author of The Peach Keeper
Meg Waite Clayton, nationally bestselling author of The Wednesday Sisters, returns with a compassionate, wise, and enthralling new novel of mothers and daughters, best friends who become family, and secrets and dreams passed down through generations.

It is early evening when Hope Tantry arrives at the small cottage in England's pastoral Lake District where her mother, Ally, spent the last years of her life. Ally—one of a close-knit group of women who called themselves "The Wednesday Sisters"—had used the cottage as a writer's retreat while she worked on her unpublished biography of Beatrix Potter, yet Hope knows nearly nothing about her mother's time there. Traveling with Hope are friends Julie and Anna Page, two other daughters of "The Wednesday Sisters," who have offered to help Hope sort through her mother's personal effects. Yet what Hope finds will reveal a tangled family history—one steeped in Lake District lore.
Tucked away in a hidden drawer, Hope finds a stack of Ally's old notebooks, all written in a mysterious code. As she, Julie, and Anna Page try to decipher Ally's writings—the reason for their encryption, their possible connection to the Potter manuscript—they are forced to confront their own personal struggles: Hope's doubts about her marriage, Julie's grief over losing her twin sister, Anna Page's fear of commitment in relationships. And as the real reason for Ally's stay in England comes to light, Hope, Julie, and Anna Page reach a new understanding about the enduring bonds of family, the unwavering strength of love, and the inescapable pull of the past.


EARLY PRAISE
"The present and the past intertwine beautifully and inevitably in Meg Waite Clayton's winning follow-up to The Wednesday Sisters. From the beguiling Lake District setting, to a completely charming (and spot-on) portrayal of Beatrix Potter, to the way the Wednesday daughters strive to unpuzzle both their own choices and their mothers' legacies, every layer of the novel delivers. Utterly rich and satisfying.
—Paula McLain, New York Times bestselling author of The Paris Wife
"Charming, thoughtful and atmospheric in that way only Meg Waite Clayton can write, The Wednesday Daughters is a jewel of a book. It's told with a deep and lovely understanding of generational ties, and it celebrates what ultimately matters most. Fans of The Wednesday Sisters are going to fall in love all over again."
—Sarah Addison Allen, New York Times bestselling author of The Peach Keeper
"The Wednesday Daughters was a bewitching escape of a novel. The characters became my beloved companions. I never wanted it to end."
—Elin Hilderbrand, New York Times bestselling author of Summerland and Beautiful Day
"A captivating novel about mothers and daughters, lifelong friendships, love affairs, betrayals, and redemption. Clayton transports us to the English Lake District, an area rich in literary history and romance, where her characters' secrets unfold in ways both satisfying and surprising."
—J. Courtney Sullivan, New York Times bestselling author of Maine and The Engagements
"With delicate, precise strokes, Meg Waite Clayton illustrates and explores the intricate effect of the secrets we keep, even from those we love, in The Wednesday Daughters. This is the perfect novel for every mother, daughter and sister to read, savor, and discuss over a pot of tea."
—Melanie Benjamin, New York Times bestselling author of The Aviator's Wife
"A beautifully elegant and unique meditation on the secrets that lie in the hearts of women, and the bonds of love between mothers, daughters, and friends."
—Eleanor Brown, New York Times bestselling author of The Weird Sisters
"What a rich book! With her cast of fresh, engaging characters and her vivid English Lake District setting, Meg Waite Clayton reveals so much about our most vital human connections: the relationships that infuriate us, challenge us, make us happy, make us whole."
—Marisa de los Santos, New York Times bestselling author of Falling Together and Love Walked In
"Captivating, wise and exquisitely crafted, The Wednesday Daughters is part mystery, part love story, and part tribute to the works of Beatrix Potter and the lore of England's Lake District."
—Cathy Marie Buchanan, New York Times bestselling author of The Painted Girls and The Day the Falls Stood Still
Join Meg's WEDNESDAY READERS' CIRCLE



VIP news and giveaways, sneak peeks at new releases, help with research questions, character naming, and title and cover selection





(I do not ever, for any purpose, share your information with anyone else. And if you change your email or your mind, all correspondence will come with easy update and unsubscribe links. Thanks!)

I'll also be keeping folks posted on my facebook author page, and doing giveaways through my blog, 1st Books.